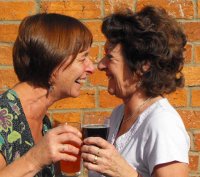 Lynne Heraud & Pat Turner are two of the most experienced and established harmony singers on the folk scene.
They have a leaning towards traditional English material, but occasionally diversify and perform their own material and Victorian/Edwardian songs. Their interpretation of both contemporary and traditional material is sensitive, moving and has plenty of humour.
Their latest album "Tickled Pink" on WildGoose Records features both traditional and original works including Bonny George Campbell, Oxfam Girls and The Wife of Ushers Well.